When Drift launched, there were already 7,000 martech companies competing for its audience's attention.
As Drift's VP of Marketing, Dave Gerhardt had two options: follow the norm or stand out. He chose the latter.
"We knew in order to win we needed to do things the opposite of how everybody else was doing it," he says. "We needed a different way to stand out. And for us, that was brand."
Fast forward three years and it's clear that Drift's strategy is working out. The conversational marketing tool is used by more than 100,000 businesses and recently raised an additional $60 million from Sequoia Capital.
In an exclusive interview, Gerhardt dug into how Drift built a brand that stood out and unlocked growth. Read on to learn how Drift created an authentic brand, how the company gained traction by giving people an idea to rally around, and which channels have helped Drift raise brand awareness.
Drift pays attention to the small stuff
Asking people to believe in a brand that doesn't come off as genuine is a hard sell. That's why authenticity is the most important element of Drift's brand.
"You don't need to hire a six figure agency or team of creatives. You can create your brand yourself because the best brands today are real and authentic and human," he says.
Branding doesn't end at a logo—it's reflected in company culture, email and website copy, how employees speak, social media voice, and so much more.
"Would you see an ad for us that would sound the same as me on a video, or David on a video, or a podcast interview with somebody?" he asks.
Drift's attention to these small details goes a long way in building an authentic, consistent brand. Photos on Drift's website are only of staff or customers. The company sends plain-text emails because they feel more conversational and personal. And, of course, Drift uses Drift to engage people instead of using forms or gated content.
One of Gerhardt's favorite examples of using the Drift brand to connect with customers came about when people were confused by the pricing page and kept sending questions and feedback.
"We did a couple of redesigns on it, we changed the copy, we changed the layout, we still had the same feedback," he says.
"So we put [our VP of ops] in a room and we made a video with him, and the video is him saying, 'Hey, I'm Will. I'm literally the guy who makes pricing at Drift and I'm going to explain to you how pricing works.'"
The video took 20 minutes to make and was perfectly on brand: no nonsense, conversational, and real.
https://www.youtube.com/watch?v=XURfJ6LA8BM
Drift gave people something to rally around
Three years ago, marketers and salespeople didn't use chatbots or on-page messaging. As far as they were concerned, forms were the highest evolution of online B2B communication.
Drift had to create a need for conversational marketing before they could capitalize on it. So, Gerhardt kicked things off by creating a rallying cry for a new type of marketing.
"We gave people a cause bigger than Drift to rally around, and that helped bring awareness for the problem that we were going to solve," he says.
His campaign focused on the common pain point of filling out a form and having to wait for an answer, which might take hours, days, weeks, or eternity. He based the "No Forms" campaign off of Saleforce's old no software campaign.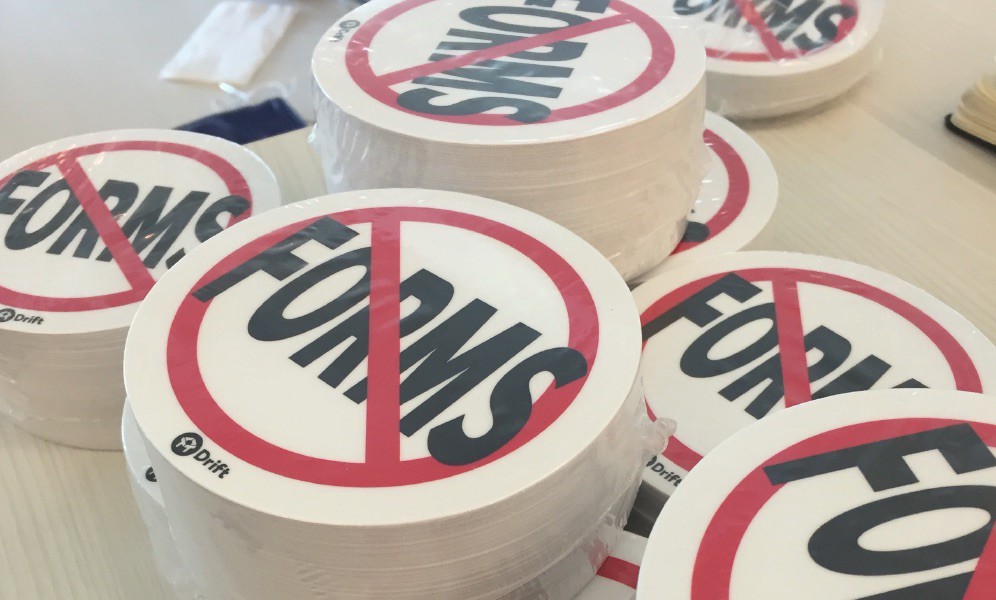 "We had no forms month. We told the world that we were getting rid of our forms. We printed out thousands of no forms stickers," Gerhardt says. "Eventually, it was such a thing in the marketing space at the time that people just like rallied around this and started sharing it."
The campaign was a success because it simply explained a problem that people didn't know they had while bridging the gap into Drift's solution, he says. It was also an easy introduction into Drift's rebellious yet relatable brand.
"We never want to come off as a brand that is cocky or better than you. It's all about showing you a new way," he says. "You've been given this tool set that was built for the last decade. We're going to show you a toolset for the new decade."
Drift brought its brand to new channels
When it comes to brand building, B2B companies are rarely adventurous.
That's not the case for Drift. In its quest to stand out, the company is experimenting with less traditional channels such as LinkedIn videos and experience-focused events.
You've likely seen Drift's LinkedIn videos at some point. They're usually taken on a phone or laptop camera, and there might be a cameo from a salesperson in a banana suit or the Head of Growth looking trés Parisian in a beret.
These quirky and low-production LinkedIn videos let Drift share its brand message with audiences on the world's biggest B2B platform. As an added bonus, it doesn't cost them anything.
During a recent launch of an email marketing product, 120 employees participated in a LinkedIn video takeover. The marketing strategy was simple: pull out your phone and record a video about the new product.
"It was insane, and it became this competition between the rest of the team," Gerhardt says.
"One of our product managers, she was on vacation. She was skiing down a mountain in Montana and recorded her video. Mike, one of our sales reps in San Francisco, walked into a coffee shop and did an interview with a barista about how she feels about spammy emails."
Drift also uses events to introduce its brand to new folks in real life. Its two major events are the Drift Roadshow and Hypergrowth, which will host 6,000 attendees this year in Boston and San Francisco.
"They're very nerve wracking but they're the best form of marketing," he says. "If you think a webinar is good or a sales call is good, there's nothing as good as face-to-face interaction with the people who are interested in your business."
Both Hypergrowth and the Roadshow focus on brand building over sales or marketing. As a result, Drift's goal is to set the right vibe so people associate Drift with a good experience.
"People really remember one or two things. They remember one or two speakers, and if the food was any good, or if they could get on the Wifi. Other than that, it's pretty hard to be bad at events."
Get the details on all of this and a lot more:
Listen to our full podcast to hear Gerhardt go into detail on all of the above plus:
How (and why) Drift split its marketing and growth teams
Why you need to ignore best practices online
How Drift sets up its events for lead generation and account-based marketing
The advice Dave would give himself three years ago